MacLampsX
About MacLampsX
MacLampsX decorates your desktop with (optionally) flashing holiday lights. It was strongly inspired by a program for classic Mac OS, Holiday Lights. Hopefully it gives a touch of holiday cheer. Decorating for the holiday is always a fun thing to do!
Version 3.0 has a completely re-designed settings dialog with cleaner handling of multiple displays and options to show lights/snow after an idle timeout. Unfortunately, macOS no longer allows me to draw on top of the screensaver, so lights are only on your desktop for the time being.
Version 3.0 is currently in beta, so if you encounter any bugs, please let me know about them (contact email can be found on my home page).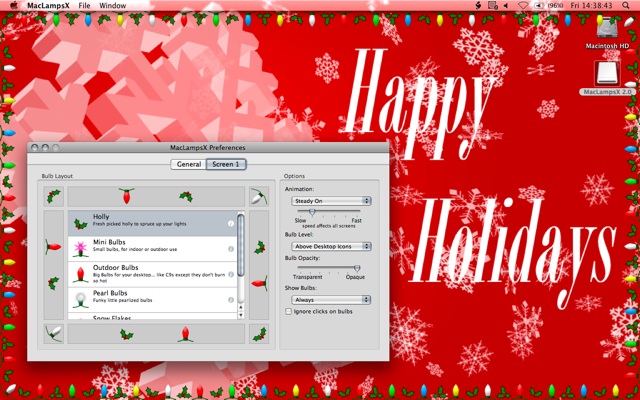 Third Party Bulbs
The bulb format MacLampsX is open, and in theory you can make your own bulb files. Over the years, I've had a few people take me up on that, and I'm pleased to make those contributions available here. Feel free to design your own to add!